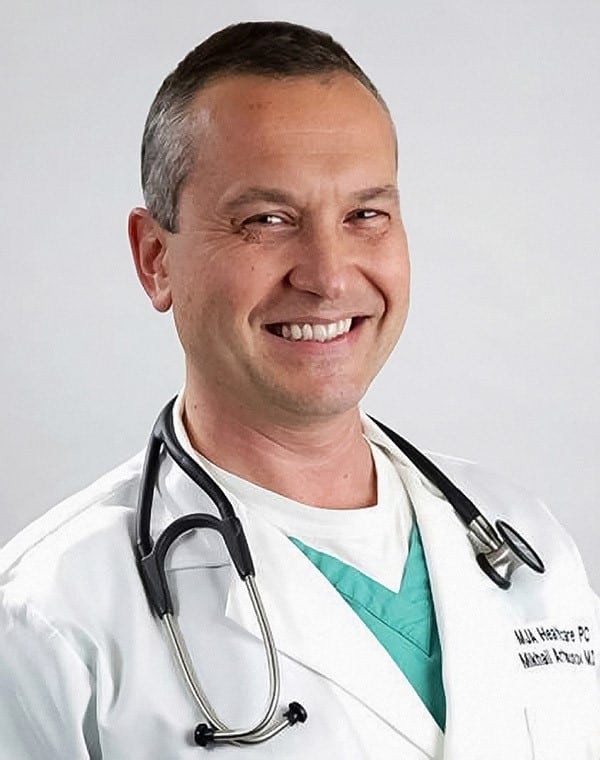 Dr. Mikhail Artamonov, MD 
We are honored to welcome Dr. Mikhail Artamonov to Ozone Master Classes.
 Dr. Mikhail Artamonov, affectionately called by the syllable-saving "Dr. A.", has a complex and woven background but is guided by one simple credo: the practice of Good Medicine. He believes that new medical technologies not only make medicine more effective but can actually make it more personalized. Dr. Artamonov is the visionary and inspiration behind MJA Health Care Network. Born in Moscow, Russia, his earliest experience was as an Ob-Gyn Nursing Aide… at the age of 14.
Dr. Artamonov has a unique background and is the only physician in the US who is board certified in 8 different areas of medicine.
 Trained all over the world, Dr. Artamonov has been applying different ozone techniques in his practice for over 20 years. Originally trained in Russian and German schools of Ozonotherapy, he was a founding member of the American Academy of Ozonotherapy and one of the first three doctors to receive certification in this field in the US. Besides basic applications, he is specializing in intradiscal and EBOO therapy. He is the developer of 99 Body Purify Total Body Dialysis™, Spinal Dialysis™, and many other novel treatments.
 Dr. A. graduated from Moscow Medical Sechenov Academy in 1994 with an MD degree and the same year with an MA degree from Moscow University Oriental Languages Department specializing in Chinese studies. Subsequently, he studied different schools of acupuncture and herbology in China, South Korea, and Japan. 
 He graduated from the first world residency program in Integrative Medicine, studying different methods of natural healing, ethnic medicine, and many others. He finished Neurology and Psychiatry residency program in Russia and Germany. Studied homeopathy, ozone therapy, and psychotherapy in Germany. He defended his Ph.D. thesis in clinical medicine in the field of prolotherapy and knee osteoarthritis treatment.
 Over 30 years of his non-stop search around our planet for the best medical knowledge he became trained in different specialties including Neurology and Physiatry, Anesthesiology and Psychiatry, Internal and Integrative Medicine. He brought together unique technologies from all over world to achieve the best for his patients.
 In 1999, He entered his carrier path in the US, finishing his Internal Medicine Internship in the famous Brooklyn Jewish hospital and Physical Medicine and Rehabilitation residency at Temple University in 2003. Subsequently, he was awarded the only one annual position in the combined Harvard Medical School Fellowship in Interventional Pain Medicine in both adults and children, working in all major teaching hospitals.
 Dr. Artamonov also completed a Fellowship in Functional medicine from A4M, attended many post-graduate courses and specialties, constantly looking for new and better medical technologies to help his patients from all over the world.
 Dr. A. is the Founder and President of the World Congress of Intraosseous Therapy (IOT), an international non-profit society, representing the international medical and scientific community interested in further development of this exciting method of treatment. Dr. A. is teaching basic and advanced workshops and master classes on different techniques. He is the creator and developer of several unique applications of IOT including Spinal Dialysis™, Intraosseous Photodynamic Therapy™, and End-plate™ method amongst others.
 Dr. Artamonov is the author of several books and regularly publishes in peer-reviewed journals on different topics. He is also running a successful R&D company developing new methods, protocols, and intel property in many areas of medicine and biology. 
 One of his favorite areas of medicine is medical gases. He is the Founder and President of the American Society of Medical Gases and has been on the advisory and scientific boards of different international associations.
Dr. Artamonov is always staying on top of major developments in the field of medicine, biology, and biophysics bringing the best treatments to his patients.